WordPress lets you create beautiful blogs or any kind of site you want.
Blogs can have multiple authors. Unfortunately, WordPress lacks tracking of various author metrics out of the box.
These include the most popular authors and author-specific metrics like page views, bounce rate, and various other behavior.
Today, I'll share how you can set up author tracking in WordPress using Google Analytics and MonsterInsights.
Why use MonsterInsights?
Google Analytics can track everything related to authors.
But it is really tough (especially if you are not a coder) to set up custom dimensions and tracking codes on your site that are required for this process.
So, MonsterInsights helps us set everything up without writing a single piece of code.
MonsterInsights is one of the essential WordPress plugins that everyone should have.
It brings tons of unique features to your WordPress site like scroll depth tracking, file downloads tracking, and it even adds a Google Analytics dashboard in your WordPress site.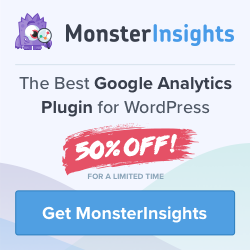 So, now when you know what MonsterInsights can do for you, let's get started with the tutorial.
Setting up Author Tracking in WordPress
I've covered the entire process in six easy steps with one optional step. Below is a TL;DR version:
Step 1. Install & Activate MonsterInsights
The first and foremost step is to install and activate MonsterInsights Pro on your WordPress site.
Note: For author tracking, you need Pro or above plan of MonsterInsights. Click here to get 50% off.
Once the plugin is activated, connect it with your Google Analytics account.
Step 2. Setup MonsterInsights Dimensions
Go to Insights » Addons to install and activate the Dimensions addon.
Now, navigate to Insights » Settings and click the Tracking tab from the top. Then click the Custom Dimensions from the left-hand menu.
On this page, you will see Add new custom dimension link. Click it and select Author from the drop-down menu.
Click Save Changes.
Step 3. Create Custom Dimension in Google Analytics
Then, open your Google Analytics account and select the property you used to set up MonsterInsights on your WordPress site.
Once the property is opened, go to the Admin tab from the left menu. Under the Custom Definitions column, you'll need to click on Custom Dimensions.
Then click on New Custom Dimension button.
A form will open to create a new custom dimension.
In the Name field, you'll need to add Author
Keep all the other settings as-is
Finally, click on the Create button.
Step 4. Match Index number with Custom Dimension ID
Also, you'll need to match the Index number in Google Analytics with Custom Dimension ID in your site's MonsterInsights settings.
You can check the index number for Author under the Index column in Google Analytics. Simply note it down.
Then, navigate to the Insights » Settings from your WordPress dashboard. Under the Tracking tab, you'll need to go to Custom Dimensions from the left-hand menu just like we did in Step 2.
Now we have two situations here:
Situation 1: If the Custom Dimension ID is the same as the Index number in Google Analytics, then you don't need to do anything.
Situation 2: If the ID is different, then make sure to enter the same number you noted from Google Analytics' index column for the Author dimension and click on the Save Changes button.
Step 5. Create Custom Report in Google Analytics
Now, for the entire configuration so far, you'll need to add a custom report in your Google Analytics account to track the blog authors properly.
In Google Analytics, go to Customization » Custom Reports from the left menu. Look for the Report Content fields and define the metric groups.
Don't forget to add Author in the Dimension Drilldowns and click on the Save button.
Step 6. Track Author Metrics
Once everything is done, the custom report you created in the previous step will display the traffic report for your Author dimension.
You can monitor the page views and bounce rates according to the blog authors.
Step 7. Advanced Tracking (optional)
To view further custom author reports, select Author as a secondary dimension in Google Analytics.
First, go to Behavior » Site Content » All Pages.
Then, choose any primary dimension (for instance: Page Title) and go to the Secondary Dimension dropdown below it.
Under the Custom Dimensions, click on the Author option to view the custom reports with other primary dimensions.
It'll add the new Author column and display the author's name next to each blog title.
Google Analytics provides you with tons of options to change the view of the reports or customize them.
Not only that, but it also allows you to export your reports as spreadsheets.
I hope this article helped you learn how to set up author tracking in WordPress with Google Analytics.
If you have any doubts, then feel free to post them in the comments section below.