We all want to keep our readers engaged. Especially if you have spent hours writing an article, then you genuinely want to know how much of your content is actually being read by your visitors.
But how do we know that?
Scroll depth tracking is the answer. Now this question certainly pops up:
What is scroll depth?
Whenever a user visits your site, he/she scroll up and down. It is a primary activity that all users perform to go through your content.
The extent to which the user scrolls your page is the scroll depth.
But now you must be wondering:
Why track scroll depth?
Tracking scroll depth is useful in determining how much of your content is being read by the users.
You can estimate the user engagement by tracking scroll depth and fix shortcomings in your site's design and content.
For example, if you can track that your users scroll 40% of your pages on average, then you know that 60% of your content is not being seen.
In this way, you can improve your content with more interesting and informative content to keep the users engaged and improve conversions.
Scroll depth can help you track what your users liked, what they didn't, and what can be done to make them interact with your content more.
Scroll Depth in Google Analytics
Google provides you plenty of ways to improve your site. One of them is Google Analytics, which is a free tool to get useful insights about your site's visitors like age, gender, demographics, device, etc.
It also lets you track how long your users stay on your site, where they go next, and where they came from.
There are some advanced metrics that you can track through Google Analytics, but you need to have a lot of technical skills.
It is almost impossible for a newbie blogger or marketer to set up tracking for scroll depth using Google Analytics alone.
Luckily for WordPress users, MonsterInsights comes at rescue.
It helps you track file downloads and advanced metrics like scroll depth with Google Analytics with no manual coding.
Also Check: Add a Google Analytics Stats Dashboard in WordPress
Let's take a look at how MonsterInsights can setup scroll depth tracking in WordPress.
Scroll Depth Tracking using MonsterInsights
MonsterInsights is the most popular analytics plugin for WordPress that lets you install Google Analytics on your site without touching a single line of code.
It has more than 2,000,000 active installations and brings all the Google Analytics functionalities to your WordPress dashboard.
Prerequisites
MonsterInsights Plus or higher installed and activated
MonsterInsights is connected to Google Analytics
Your version of MonsterInsights is up-to-date
Premium version of MonsterInsights comes with scroll tracking enabled by default, so you don't need to worry about anything. Simply get MonsterInsights Plus or higher and install it.
If you want to make sure then go to Insights >> Settings >> Engagement and you will see that Track Scrolling Depth is enabled.
Now, this might definitely popup in your head:
Where to find Scroll Depth results in MonsterInsights?
Good question!
You can find your scroll depth tracking stats right inside your WordPress dashboard by going to:
Insights >> Reports >> Publishers
All the tracked scroll depth data appears next to the Interests section.
MonsterInsights automatically trigger events in Google Analytics as your website visitors scroll down the page. These events are triggered at 25%, 50%, 75%, and 100% scroll that can be tracked in your Google Analytics account.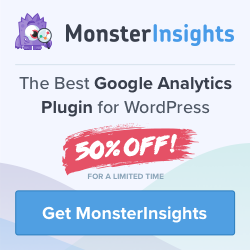 An average scroll depth can also be seen that shows the average of overall scroll depths of all pages on your site.
Check Scroll Depth Results in Real-Time using Google Analytics
MonsterInsights sets up Google Analytics on your site. That means you can see real-time results in your Analytics account.
Looking for multipurpose themes for WordPress that are fully responsive and SEO optimized? Check out our exclusive Elegant Themes Divi Coupon.
You can easily check the live or 30 minutes results of the tracked scroll depth in your Google Analytics dashboard.
Login to Google Analytics then go to Real-Time >> Events
For complete and detailed data, navigate to Behavior >> Events >> Overview in your Google Analytics dashboard.
Simply click on Scroll Depth to get detailed data.
For more granular details, you can use Google Analytics' Secondary Dimension feature to see the scroll depth data for each individual landing page.
Click Even Label
On this view, you can see all the number of events triggered for each percentage of scroll tracking.
That's it!
Now you know how to set up scroll depth tracking in WordPress using MonsterInsights plugin and Google Analytics.
They offer a free MonsterInsights plugin too, but as mentioned above, you'll need to upgrade to the premium version to unlock the feature to track scroll depth and other powerful insights.
Use the button given below to get FLAT 50% OFF any MonsterInsights plan
If you have any doubts or queries, then make sure you post them in the comments section below.