No matter if you want to start a blog or already own one, Google Analytics is a must-have. If you are not using Google Analytics for your site, then you're missing out on a lot of opportunities.
Knowing your audience is the initial step so that you can give people what they are looking for. That's how a business grows!
Why use Google Analytics at all?
Google Analytics is your all in one solution to track your audience, traffic, and their attributes like age, gender, location, and all that in real-time.
Normally you integrate Google Analytics code on your site by putting your unique tracking code in your site's header and then track everything from your Analytics dashboard.
This approach is very risky if you are a beginner to WordPress and codes.
Also, even after you integrate Google Analytics into WordPress successfully, it is really tough to understand the stats. It can take you up to a few weeks to actually understand all the options and data in your Analytics dashboard.
Google has done a great job by developing Analytics for free but let me tell you, it is really not a beginner-friendly solution.
Not only that, checking Google Analytics stats requires you to open a separate browser tab. Then you have to deal with all the logins, and then you get to see what you are looking for.
What if all this was possible through your WordPress dashboard only?
It is possible using MonsterInsights!
What is MonsterInsights?
MonsterInsights is the most popular Google Analytics plugin for WordPress that is brought to you by the same team that's behind the most popular lead-generation tool, OptinMonster, and the best WordPress forms plugin, WPForms.
MonsterInsights streamlines everything and integrates Google Analytics with your WordPress.
That's not it, this tool also adds a user-friendly Google Analytics stats dashboard directly to your WordPress dashboard.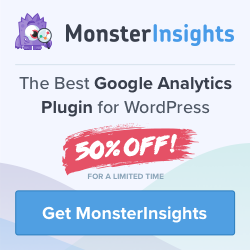 The website reports shown by MonsterInsights are so easy to understand that even a beginner will feel comfortable in understanding everything.
Isn't that awesome?
Now without further ado, let's get straight into how you can integrate and add a Google Analytics Stats Dashboard in WordPress using MonsterInsights.
Adding Analytics Stats Dashboard in WordPress
NOTE: This process requires you to have a Google Analytics account already created. Setup and create a new account if you haven't already.
The first step is to install and activate the MonsterInsights plugin. Click here to download it from their official website.
Once the plugin is activated, an Insights menu will automatically get added to your WordPress dashboard sidebar.
Now you have to activate your MonsterInsights plugin by entering the license. Go to the Insights » Settings from your WordPress dashboard and enter your plugin license key.
As I mentioned above, MonsterInsights lets you set up Google Analytics on your WordPress site without touching a single line of code.
Instead, it authorises with your Google Analytics account and integrates your tracking code on your site automatically.
For that, click the Connect MonsterInsights button below the license activation field.
The button will redirect you to Google's "Choose an account" page. Choose the Google account that you used to set up your Analytics account.
Google will then ask you to allow MonsterInsights to access your Google Analytics account. Click the Allow button.
Now MonsterInsights can interact with your Analytics account. It will show all the profiles associated with your Analytics account.
Select your site's profile, click I'm not a robot checkbox and click the Complete Authentication button.
That's it! You've successfully completed the setup process and integrated Google Analytics into your WordPress site. Now, you'll be redirected back to your WordPress dashboard automatically.
Viewing Site Analytics in WordPress
Now that MonsterInsights setup is complete and Google Analytics is fully integrated with your WordPress site, it is time to see all the stats and reports from your WP dashboard that the plugin promises.
Looking for multipurpose themes for WordPress that are fully responsive and SEO optimized? Check out our exclusive Divi Theme Coupon.
MonsterInsights adds two types of Google Analytics views in WordPress dashboard:
MonsterInsights Dashboard Widget
MonsterInsights Custom Dashboard
Now, let's start with a quick overview of MonsterInsights Dashboard Widget.
1. MonsterInsights Dashboard Widget
MonsterInsights add a quick stats widget to your WordPress dashboard so that you can have a look at your site's performance every time you log in.
The dashboard widget shows you an Overview report for your site. This report includes several stats, including:
Total sessions and pageviews (last 30 days)
Average session duration
Bounce rate of your site
Top posts/pages on your site
New vs. returning visitors report
Device breakdown – users from different devices like desktop, tablet, and mobile
By default, the plugin shows you the stats for the last 30 days. You can change this view as per your needs by selecting the limit from the drop-down list.
That's not all, you can even customize the dashboard widget to show additional Publishers and eCommerce reports like Top Landing Pages, Top Products, etc. by clicking the settings icon.
If the dashboard widget is too small for you, then you can turn on the full-width mode. There is a blue slider switch. Use it to toggle between condensed and full-width mode.
2. MonsterInsights Custom Dashboard
The dashboard widget is helpful in showing quick stats. But if you want detailed stats then you need to go to custom dashboard by MonsterInsights.
To view the custom dashboard and reports, navigate to Insights » Reports from your WordPress sidebar menu.
Here you'll see your site's complete Google Analytics reports presented in a user-friendly way.
You see the Overview report when you first open the reports page. This includes your site's total pageviews, sessions, top 10 countries, top referrals, etc.
In the top navigation menu of the page, there are 6 tabs in total. Below are all the metrics you can find in MonsterInsights' custom reports:
Overview Report: Total sessions, pageviews, top countries, top posts/pages, bounce rate, etc.
Publishers Report: Top landing pages, top exit pages, outbound links, affiliate links, download links, demographics, etc.
eCommerce Report: Your WooCommerce or Easy Digital Downloads powered shop's conversion rate, transactions, revenue, top products, total add to carts, etc.
Search Console Report: Top 50 Google search terms for your site with the details of clicks, impressions, CTR, and average position.
Custom Dimensions Report: You can track custom dimensions link top authors, top keywords, top categories, custom post types, etc. with ease and view reports on this tab.
Forms tracking report: Your WordPress forms' full reports with counts of impressions, conversions, and conversion rate for each form.
Should you use MonsterInsights for WordPress stats?
MonsterInsights is undoubtedly the best plugin to add a Google Analytics Stats Dashboard in WordPress. This plugin has everything you'll ever need when it comes to website stats and reporting.
Google Analytics stats are so complicated that even experienced users need to look for help online or hire a developer to set up advanced tracking.
MonsterInsights makes everything a piece of cake. This plugin even lets you track scroll depth in WordPress without touching a single line of code.
In a nutshell, if you are very serious about your business site that is built on WordPress, then you should definitely give MonsterInsights a try. Trust me, you'll never be disappointed!