WordPress is the most flexible CMS. You can create any kind of site using it, even start a blog in 2023 using it.
If you have a file download site or a blog that distributes PDF files or a digital content marketplace, then it is essential to track the downloads.
Need to Track File Downloads
For sites where your business is entirely dependent on the downloading of files, it is a must step to track the count.
Suppose you have spent hours in writing an eBook, but you don't know how many actually downloaded it.
That's why file download tracking is very important. Also, you will be:
Able to track if people like your content or not
That will help you to improve your downloadable content
Recommended: How to add a Google Analytics Stats Dashboard in WordPress
Today, I'll share how you can easily track downloads on file in your WordPress site.
Note: Only files downloaded directly through your site can be tracked
Track File Downloads on Your WordPress Site
We will use Google Analytics to track the file downloads. Google Analytics provides tracking of user interaction and events generated by them.
But setting up Google Analytics to track such events is a complex process.
So, to make things super simple, we will use MonsterInsights.
MonsterInsights is a swiss army knife for WordPress that makes Google Analytics easier for you.
It provides you with awesome features like scroll depth tracking in WordPress.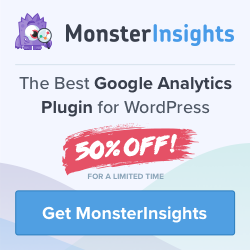 Now that you know what MonsterInsights is and what it can do for you, it is time to proceed to the tutorial.
Step 1. Install MonsterInsights
Install and activate MonsterInsights plugin.
If you don't already have MonsterInsights, then you can use our link to get 50% off.
After that, connect MonsterInsights to your Google Analytics account. Check the MonsterInsight installation and setup process.
Step 2. Add File Extensions
Now that MonsterInsights has integrated Google Analytics into your site, it is time to track the file downloads.
By default, MonsterInsights tracks downloads of the following file extensions: doc, exe, js, pdf, ppt, tgz, zip, xls.
From your WordPress dashboard, go to MonsterInsights » Settings » Tracking » File Downloads.
Then add the additional extensions that you want to track in the Extensions of files to track as downloads field, separated by a comma.
Click Save.
That's it! You have successfully configured file downloads tracking in your WordPress site.
Check File Downloads
Now, to view the downloads, you have two options. Either check directly through your WordPress dashboard or through Google Analytics.
Through WordPress
Prerequisites: To view file downloads in WordPress, you'll need to have the Plus level tier or higher of MonsterInsights.
Go to Insights » Report » Publishers Report and scroll down to see your downloads.
Through Google Analytics
To check the tracked downloads, log in to your Google Analytics account and select the desired website.
Now, there are two scenarios based on the configuration you chose in the MonsterInsights setup for downloads.
Scenario 1st: If you've enabled downloads tracking as pageviews in MonsterInsights, then your downloads report will show up in the All Pages report along with other blog posts and pages.
Navigate to Behaviour » Site Content » All Pages to find this report.
Scenario 2nd: But, if you've enabled downloads tracking as events in MonsterInsights, you can see the downloads data separately in the event's report.
In your event reports, navigate to Behavior » Events in the left panel.
That's all!
I hope this tutorial helped you to set up MonsterInsights on your WordPress site to track file downloads using Google Analytics and check them.
If you have any doubts, then feel free to post them in the comments section below.