If you are an internet marketer whose income relies on lead generation, then you know what kind of a pain in the a** form abandonment is.
You can lose some potential leads all because of form abandonment. Users often abandon forms on the sites and never bother to go back and fill them. This is how we lose a lot of revenue.
The problem is not with the users but with your forms. It can be a hectic situation for you especially if you have just started blogging and are new to everything.
Even if everything is fine on your site, but the user abandoned the form somehow, no worries.
Why? Because today I will guide you through the process of how to reduce form abandonment and bring back the lost leads and sales.
What is Form Abandonment?
When a user leaves your form without completing it, then that's called form abandonment. There can be many reasons both from their side and your side.
Like maybe the user's internet connection went off. Or maybe he/she was in a hurry, so they had to leave your form partially filled.
There can be a lot of reasons. But that shouldn't make you lose potential leads.
According to Capsumo, the average form abandonment rate is 75.60%, which is pretty high!
No matter if the user has filled only one field or left after filling almost the entire form without submitting it, I will tell you in the next part how you can retarget those abandonments.
How to Reduce Form Abandonment
Below I've mentioned some points that will help you combat form abandonments and increase user retention:
Capture Partial Entries Using WPForms
If you are a WordPress user, then WPForms comes at rescue.
With the help of WPForms, you can unlock more leads by capturing partial entries from your forms. Then you can easily follow up with interested leads and turn them into loyal customers.
WPForms is one of those rare WordPress contact form plugins that allow you to create signature forms in WordPress.
Get FLAT 50% OFF any WPForms plan: Get it today!
Let's find out how you can reduce form abandonments using the WPForms plugin.
WPForms does an awesome job with two specific events that trigger form abandonment:
When the user moves their mouse outside of the browser's viewport: Means the user is trying to close the site's browser tab
When the user clicks on a link on the page: Means the user went to the other page of your through a link and left the form partially filled
Step #1.
Install and activate the WPForms plugin on your WordPress site.
Once the WPForms plugin is installed and your license is verified, you'll be able to install and activate the Form Abandonment addon.
Step #2.
Now create a new form or edit an existing form.
Step #3.
Enable Form Abandonment in your form's settings. To do so, open the form builder and navigate to Settings » Form Abandonment.
Then tick the checkbox labeled Enable form abandonment lead capture.
Once you enable the form abandonment option, some more options will show up.
This addon gives you two options to capture the leads:
Save only if an email address or phone number is provided: It is recommended in most cases since you'll get the minimum information needed to follow up on the lost lead.
Always save abandoned entries: This option will save every single partial entry which is best for anonymous submissions, such as surveys or polls.
Then you have a checkbox to enable or disable the option to Prevent duplicate abandon entries. By default, WPForms saves all partial entries even if the same user fills out your form multiple times.
Viewing Abandoned Entries
Once you've set up everything according to the steps mentioned above, you'll start seeing abandoned entries recorded on your form's Entries page.
Go to WPForms » Entries, and from here you'll be able to see all the entries with their completion status.
Now that you've collected the data about abandoned forms, you can easily notify the users using retargeting emails to bring them back and complete the form.
Send Retargeting Emails
As mentioned at the beginning of this article, users often abandon the forms without completing them. But that doesn't mean they can't finish them later.
Once we have captured all the data we need using WPForms, it is time to reduce form abandonment by sending retargeting emails. These emails can allow you to follow up with many potential leads quickly.
We will again use WPForms for this purpose.
Get FLAT 50% OFF any WPForms plan: Get it today!
To set up a retargeting email, you'll need to edit the form then go to Settings » Notifications.
Scroll to the bottom of the notification settings, and then you'll find the checkbox to tick Enable for abandoned forms entries option.
Not only that, you can send multiple emails based on multiples conditions or time periods. Follow this tutorial on setting up multiple notification emails and configure as per your requirements.
We've learned how you can reduce form abandonments by collecting data and sending retargeting emails. But have you wondered out of many reasons, there could be some that were because of your site or your form itself?
Maybe the user didn't like the way how you form looked, or it was too hard to complete. In the next sections, I will tell you various ways to retain the users and reduce form abandonment.
Design Visually Appealing Forms
A form's visual appearance matters a lot. If the users find it unpleasant, then they will simply abandon it. That includes the size of the fields, color combination, and fonts, etc.
Looking for multipurpose themes for WordPress that are fully responsive and SEO optimized? Check out our exclusive Divi Theme Coupon.
Proper Form Branding
You don't want your forms to look different. Brand your forms with same font styles, sizes, colors, etc. as your site. Make the forms blend in with your website.
One excellent example is WPForms' own contact form:
You can clearly see how beautifully blended their contact form is. The font is matching with their site's original font, the color combination, font size, etc. everything is very strategically designed so that they are appropriately blended in with the content.
Design a form just like that so that it looks professional and properly branded.
Guide Users
Most fields of a form are self-explanatory like name, email, and phone number. But some fields require explaining the reason why you asked them or what you should fill in them.
Below is a perfect example of a well-instructed contact form that I found on Gleam.io
As you can see, there are instructions wherever required to guide users to fill out the form. If there were no instructions, then there are chances that some of the users might get confused and abandoned the form.
With the proper guidance and instructions, your forms retention and completion rate improves significantly.
Use Live In-Line Field Validation
You might have been in a similar situation before. You fill a form and click the submit button and get an error because of the wrong or missing entry.
That's the primary cause of most of the form abandonments. Users get irritated and immediately leave.
Why wouldn't they? It took some time for them to fill up your form, and now it is giving them an error at the end.
You're not wrong, on the other hand since the user missed a required field or filled the incorrect data. So, what's the solution?
Live inline field validation!
Just suppose you are filling up a form and see something like this:
This form uses inline field validation that reminds you of any errors in real-time. In this way, the user doesn't have to fill-up the form again or after the form submits. They can fix the error and then submit the form.
For WordPress users, WPForms helps setting up such a form with inline field validations. To check the default list of validation messages, go to WPForms » Settings and open the Validation tab.
On this page, you can find and customize all the default validations messages. Below is a sneak peek:
When it comes to WordPress forms, there is seriously nothing that WPForms can't help you with. It is built for serious bloggers and marketers so that they don't lose a single lead.
Get FLAT 50% OFF any WPForms plan: Get it today!
Keep Number of Form Fields to Minimum
Time is precious, not only for you but for your users too. Long forms repeal a lot of people. I have several techniques to combat this issue.
Remove Unnecessary Questions
It is pretty straightforward. Don't add the fields that hold the data that is not really helpful for you.
Suppose you have a signup form on your SEO firm's website and you are asking people if they are married or not through it.
That information is of no use to you. So, ditch all such fields that hold no actual purpose. This will help you to make your form short and reduce form abandonment.
Give Options Instead of Asking
People easily move away from things that confuse them even if it is a form on a site.
If you want a piece of information from the user through a field that can confuse them, then give them multiple options instead.
Suppose you want to add a "Where did you hear about us?" field to your form and users are required to fill it to submit then form, then don't add a blank text box for that.
Add multiple checkboxes instead so that users don't get confused and abandon your form.
Divide Form in Multiple Steps
Nobody likes to fill miles long forms because they are annoying and less interactive. So, if you have a long form on your site that users often abandon then divide it into multiple steps with a progress bar at the top.
Users find this kind of form very interactive, and it certainly gets them engaged too. Plus, a progress bar is fun to watch while you fill out a form.
Remove the Reset Button
The reset button is truly troublesome as sometimes we click it by mistake and it does its job. You don't want your users to lose their entire progress in the click of a button.
If your users want to refill the form, then they can reload the page. But resetting the form to blank by mistake can bother a lot of users and make them abandon your form instantly.
Fix Your Site's Technical Issues
People have a concise attention span. If your site's technical issues make them lose that attention, then the chances of form abandonment are pretty high.
Technical issues like downtimes, broken or slow loading sites can all leave a bad impression on your users.
Design and develop a robust site and host it with a solid hosting provider. For WordPress, Elegant Themes does the job for you. Their themes are mobile-friendly, SEO optimized, fast-loading, and bug proof.
When it comes to hosting, a managed hosting provider is what you should always look for so that you can focus on the business instead of worrying about the technical aspects of your site. I use and recommend Cloudways.
Use Exit Intent
Did you know that most of your visitors who abandon your site never come back?
The same goes for your form's visitors too. Suppose the user doesn't even start filling the form. Then how will you have the data to retarget them?
The answer is "convert them before leaving"
OptinMonster offers this feature known as Exit-Intent Technology that tracks the visitors' cursor movements and triggers your campaigns just before they try to leave.
Get FLAT 50% OFF any OptinMonster plan: Get it today!
Exit-Intent can convert between 2-4% of your visitors into email subscribers who would leave your site anyway.
Mobile-Friendly Forms
Mobile users are increasing rapidly, and if you can't make sure that your forms are mobile-friendly, then you are destined to lose a lot of your potential leads.
Though most people prefer to fill online forms using a desktop or a laptop, some prefer to fill out the forms on the go using a mobile device.
Design mobile-friendly forms so that you don't miss any possible lead or conversion through any device.
A/B Testing For Forms
People have different tastes and criteria. Your forms can't be loved by all of your users. The best bet is to go with something that most of your audience prefers.
But how do you find out this best possible variant?
A/B testing makes it possible. You create multiple variants of a single form and see which one of them performed the best and then stick with that one.
There are many tools available on the web to perform A/B testing, but most of them are paid or have certain limitations in the free version.
If you are low on budget to afford a premium A/B testing solution, then you might want to use Google Optimize.
Google Optimize is a free tool by Google that lets you conduct experiments and A/B testing on your site's various elements like order forms to determine which works best for your audience.
Not only that, Google Optimize is built as an extension to Google Analytics so you can track all the test data in your analytics dashboard.
Google Optimize requires some setup that can be troublesome for those who are not much familiar with codes.
I have a better solution for you. You can always use the MonsterInsights plugin, which is hands down the easiest way to set up Google Optimize on your WordPress site.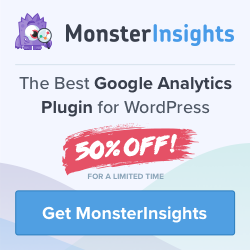 To set up Google Optimize on WordPress, all you need to do is to install MonsterInsight's Google Optimize addon. Check this step by step tutorial on how to set up Google Optimize using MonsterInsights if you need any help.
– Also Check: Track Scroll Depth in WordPress Using MonsterInsights
Secure Your Forms
Your audience should feel confident that their information is not in any danger of theft. You can reduce form abandonment significantly if you make your user feel safe and secure.
Use Trust Badges
One of the biggest reasons for the cart of form abandonment is the absence of trust badges. Adding trust badges is a proven way to gain user trust.
48% of users prefer to see a trust badge on the same page as the form they are filling up.
Get SSL Certificate
The evergreen way to build up user trust that their information is in the safe hands is using an SSL certificate. You can get a free SSL certificate from a site like Let's Encrypt.
Then force HTTPS on your site so that there are no pages that are not resolving through HTTPS.
Maintain Transparency
Be as transparent as possible. If you ask for any sensitive information through your forms, then mention the reason.
Not maintaining transparency is one of the primary reasons why users abandon online forms.
If you have a checkout form that has some hidden charges, then your forms abandonment rate will undoubtedly increase.
Don't hide anything. Let the user know what they are getting into to reduce form abandonment massively.
Final Words
Form abandonment is a serious issue that can cost you a lot in the long-term. It is better if you combat it in proper time.
The ways that I mentioned above will definitely help you to reduce form abandonment on your site.
I hope you found this article useful. If you have any doubts, then feel free to post them in the comments section below. Also, don't forget to follow our social media handles to stay updated. Cheers!